Callout and the Charity Challenge – a busy day!
Sun, 12th Jun 2022
On Sunday 12th June 2022, the Moffat Mountain Rescue Team Charity Challenge returned after 2 missing years due to Covid-19.
Over 70 walkers, including 11 runners, braved one of 4 walks in the Moffat Hills all starting from Annanwater Hall. Walk 1 for families went to explore the famous Hart Fell Spa while Walk 2 climbed to the summit of Hart Fell and returned back to the valley after admiring the view. Walk 3 took a circular route including part of the Annandale Way then east along the ridge before a steep ascent to the summit of Hart Fell and then back to the valley. Finally Walk 4 climbed through the Devil's Beeftub before walking out to Earlshaugh, climbing the Crown of Scotland and then joining Walk 3 up the steep ascent of Hart Fell before descending to the valley.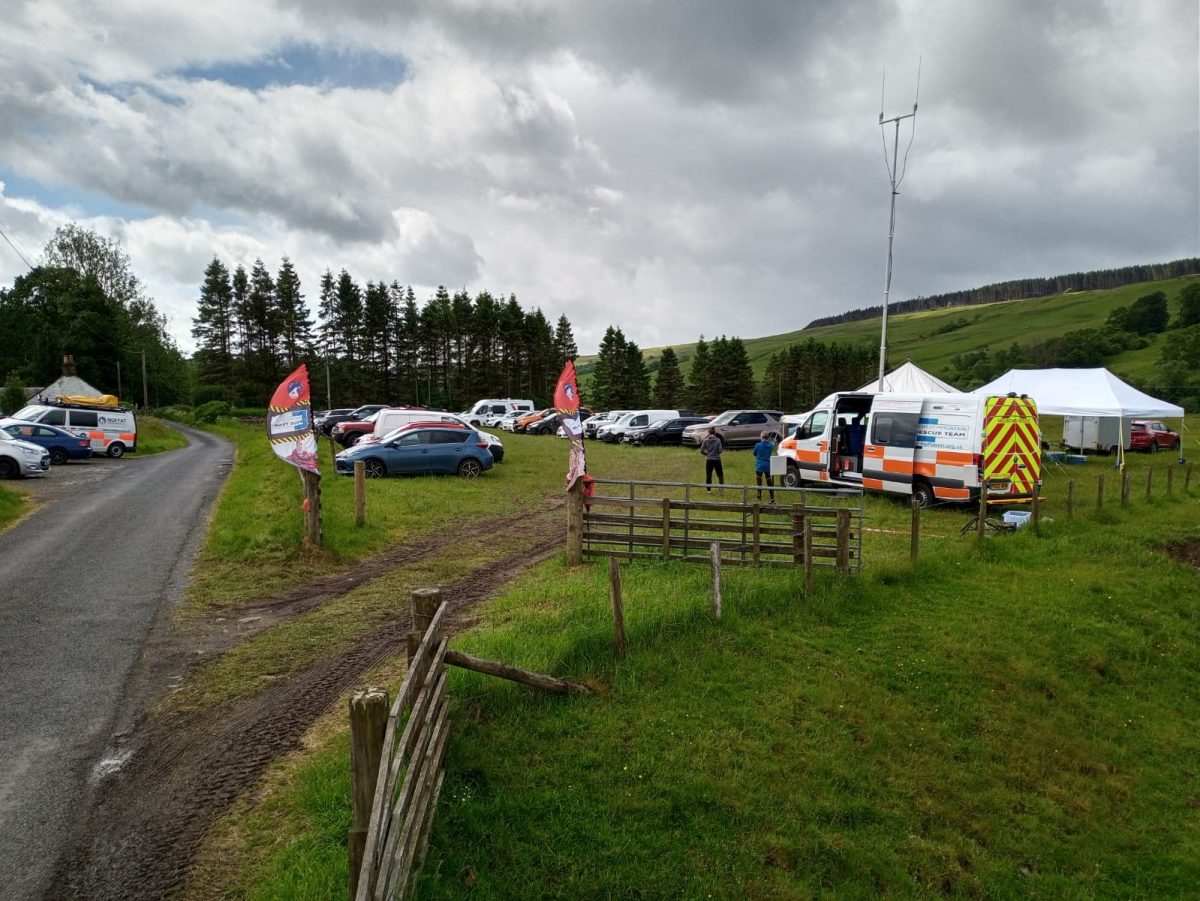 All the walks were marked and overseen by members of Moffat Mountain Rescue Team who were strategically located across the hills and reported progress back to MMRT control. Back at Annandale Water Hall, walkers were offered burgers, tray bake and refreshments as well as a commemorative T-Shirt, designed by a recently retired team member!
The weather added to the challenge over the day with a few sharp showers to keep the walkers and runners cool between the warm sun that did make an appearance!
As the walk was progressing, at around 1230 Police Scotland asked for the assistance of the team to a walker who was feeling unwell in the Auchencairn Forest above Loch Ettrick. The team's Volkswagen Ambulance responded with three team members and joined Police already arriving on scene. One of the teams' Casualty Carers made an assessment and after the lady was placed on oxygen, she was transported to Loch Ettrick to a Scottish Ambulance Service crew. The team's control vehicle back at the Challenge Walks helped coordinate the incident while still looking after the walkers on the hill.
The team members on the callout made it back to the Annanwater Hall in time for the prize raffle draw! The team is now waiting for final sponsorship money to be received to see how much has been raised to help run the team's vital service.
The team would like to thank all the landowners who gave their permission to hold the walks, the volunteers who came to help and lastly the walkers who made the day!
The team is run entirely by volunteers and is funded mostly by public donations – if you think you may be able to help the work of the team please visit our donating page below
Back to News