What To Do
The outdoors are there to be enjoyed and we hope you thoroughly do so! Proper preparation means you're likely to have a better day on the hills/mountains, but an awareness of the steps necessary in the event of an emergency is important. Below we've outlined some suggestions to consider:
Preparation and What To Take:
Before you go out:
Check the weather and hill / mountain conditions:
Plan your route:
Take into account the weather or winter conditions and the best route
Plan for the slowest or least skilled member of the party
Decide if your party have the skills to complete the route, including if the conditions change
Plan escape routes from your intended route
Decide on key places to reach and by what time, and any special measures you need to employ at this time – eg placing crampons, having a snack before a difficult section
Be prepared to adjust or abandon your plans if the conditions have altered by the time you arrive at your starting point
Pack / wear the right equipment:
Appropriate layered clothing and well-fitting boots +/- gaiters
Have a map in waterproof casing and know how to read it
Carry a compass and know how to use it (don't rely on GPS)
Headtorch and spare batteries in case you take longer than anticipated or have to stop
Waterproof jacket (of visible colour to be easily seen), trousers and gloves
Hat and spare warm layer preferably within a waterproof sack
Charged mobile phone and waterproof case for it plus a backup power source
Watch
Suncream / sunglasses on potentially sunny days
Midge net and repellent out of winter season
Small first aid kit amongst the group
Food and drink
Emergency snacks
Group shelter amongst the group
Survival bag
Whistle
Consider walking poles
Special considerations:

Winter hills – crampons, ice axe +/- helmet

Avalanche potential – Avalanche transceiver

Extreme remote areas with known no phone signal / walking alone – Personal locator beacon
Leave details of your intended route and expected time of return with a friend, family member, accommodation provider who can raise the alarm if you do not return in the right time, or failing that, in your car – use a Route card such as those found at: Mountaineering Scotland
Register for the SMS Emergency text system (below)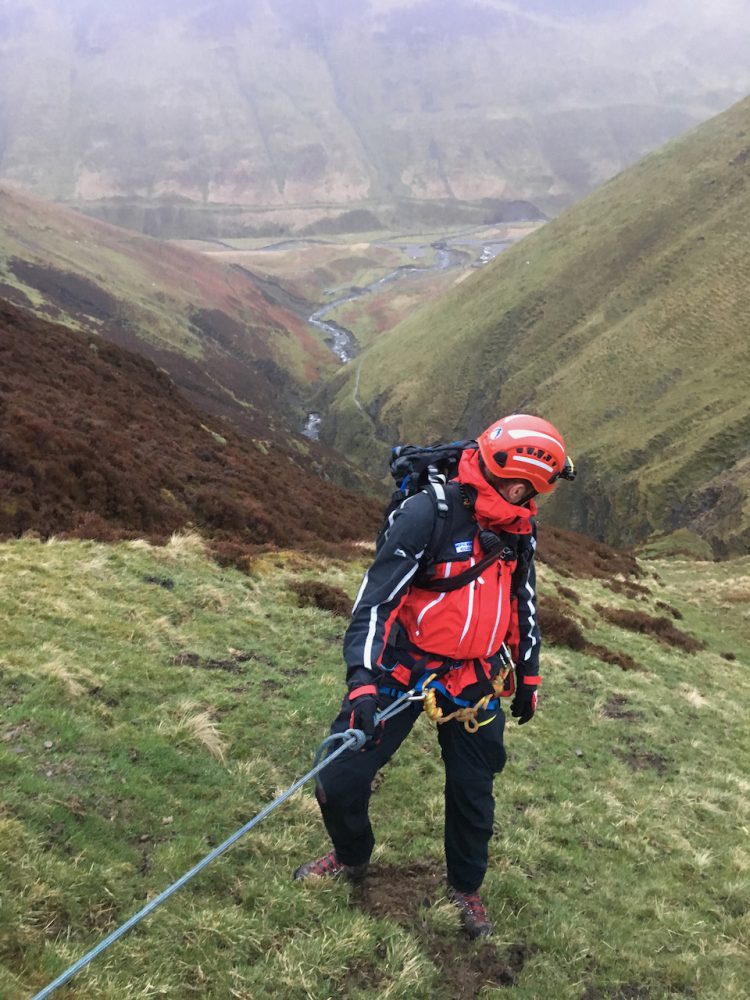 In An Emergency:
Keep yourself safe
Provide initial First Aid where required, use others in the party to continue this whilst you complete the next steps
Gather information:

Location – preferably an Ordnance Survey 6 or 8 figure Grid Reference from your map or an app such as OS Locate, or an alternative like What 3 words or website such as Where am I

Nature of your / other person's injuries (and their details)

Number of people in your party, your and their mobile phone number(s) in case of loss in contact with you/them

For any incident in the outdoors or on the hills/mountains away from the roadside:

Dial 999 – ask for Police – Mountain Rescue

Mountain Rescue will be able to liaise with Ambulance and Search and Rescue Services to coordinate an appropriate response

Give details that you have prepared
Stay in this location awaiting response from Mountain Rescue / Emergency Services

You will need to keep warm and consider finding shelter.

Group shelters are good at providing shelter at the location.

In extreme conditions, if you do not have shelter and are considering moving descending from the hill, be aware other shelter / descent routes may not have phone signal, so make contact while you do have signal and discuss your planned moves with the rescue services (preferably when they call you back).
In Areas with Weak Phone Signal
(various areas in remote Scotland)
A text requesting assistance may have more chance of being sent. You can ask for help by text to 999 or 112 if you have registered your mobile number beforehand.
This can be setup in 2 minutes through a registration with 999 or 112 – a 2 minutes worth spending! This can alert emergency services.
Step 1: Text the word 'register' to 999 or 112
Step 2: You should receive an automated text in reply – read it all
Step 3: Reply 'Yes' to the text if you agree to the registration
Step 4: You should receive a 'success' text. If not, visit https://www.emergencysms.org.uk
Step 5: There is no need to test the system, but you can check if your phone number is registered by texting 'register' to 999 or 112 where you will find if your number is already registered.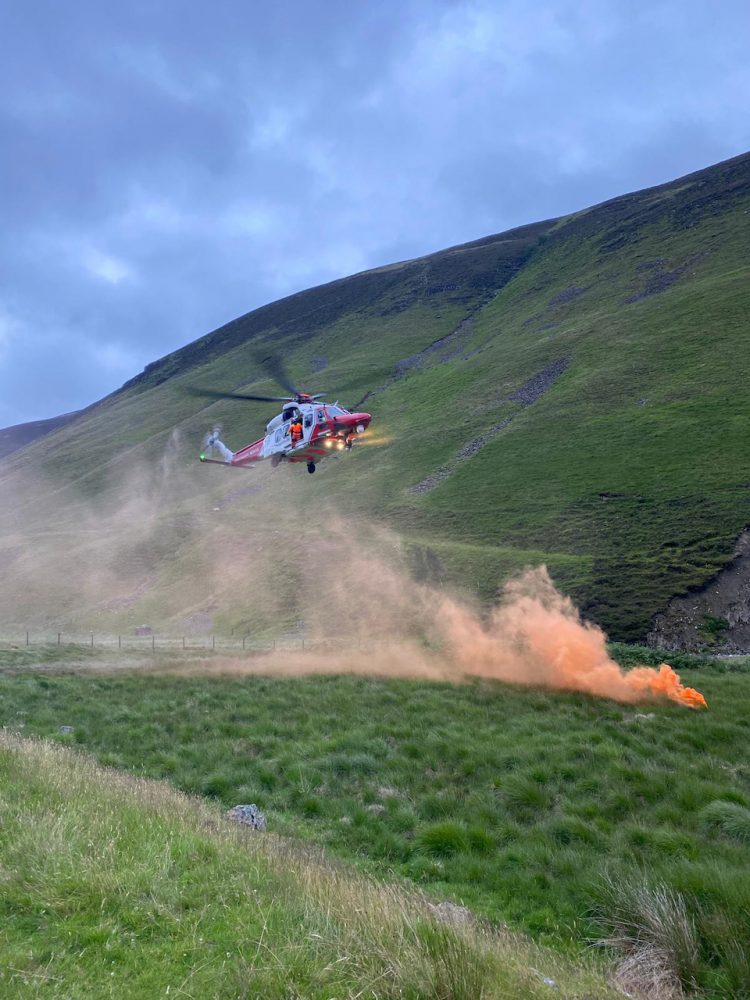 Safety Around Helicopters:
In the event a helicopter is part of a rescue please consider these simple steps to keep yourselves and the team safe:
You may alert them with a standard torch / phone light in the dark but do not shine your torch directly at them as they approach
In daytime, raising both arms to form a 'Y' symbol indicates you need help
Do NOT approach the helicopter unless directed to do so by the crew – they will work around you
Downdraft from the helicopter can be significant – kneel down and secure any loose clothing or equipment as loose items may fly off and endanger the aircraft.