Callout to Tinto in winter conditions to assist injured walker
Sun, 22nd Jan 2023
At 16:55 on Saturday 21st January 2023 Moffat Mountain Rescue were called to assist an injured walker on Tinto Hill.
The call had been placed to the Scottish Ambulance Service who had mobilised paramedics to the car park prior to Moffat MRT arriving with an SAS incident control unit en route.
Luckily the team were carrying out first aid training at the Moffat base at the time of the call and were able to mount a quick response, sending two team vehicles and 8 team members up the hill to the casualty, followed by the team's control vehicle and remaining team members.
With paramedics already on scene, a local farmer with a quad bike aided their ascent of the hill to reach the casualty quickly and make an initial assessment. The conditions on the hill were challenging with strong winds and ice underfoot making the team's ascent on foot significantly more difficult.
6 members of the team proceeded to the casualty location with further team members ascending the hill with additional equipment in the event the casualty needed to be carried from the hill.
Members of Moffat MRT assessed the casualty, who had already had injury management carried out by paramedics and pain relief administered, then sheltered the casualty from the elements to prevent hypothermia and safely packaged the casualty into a warm cas bag and stretcher.
HM Coastguard Rescue 199 helicopter was able to attend the scene and land close to the casualty location. Moffat MRT carried the stretcher to the waiting helicopter with the aid of a back rope to protect the carry due to the steep ground and icy conditions who were then able to fly the casualty down to the car park where the Ambulance Service were able to take over care of the casualty and transport them to hospital.
The team were stood down at 20:30. A challenging evening for the team and all involved. Now to get back to our weekend team training!
If you're in need of help on the hills, dial 999 and ask for POLICE, then MOUNTAIN RESCUE.
Support us by sharing our post to widen awareness of the team's activities, visit our pages for information on what to do in an emergency, and where possible, visiting our donate link below: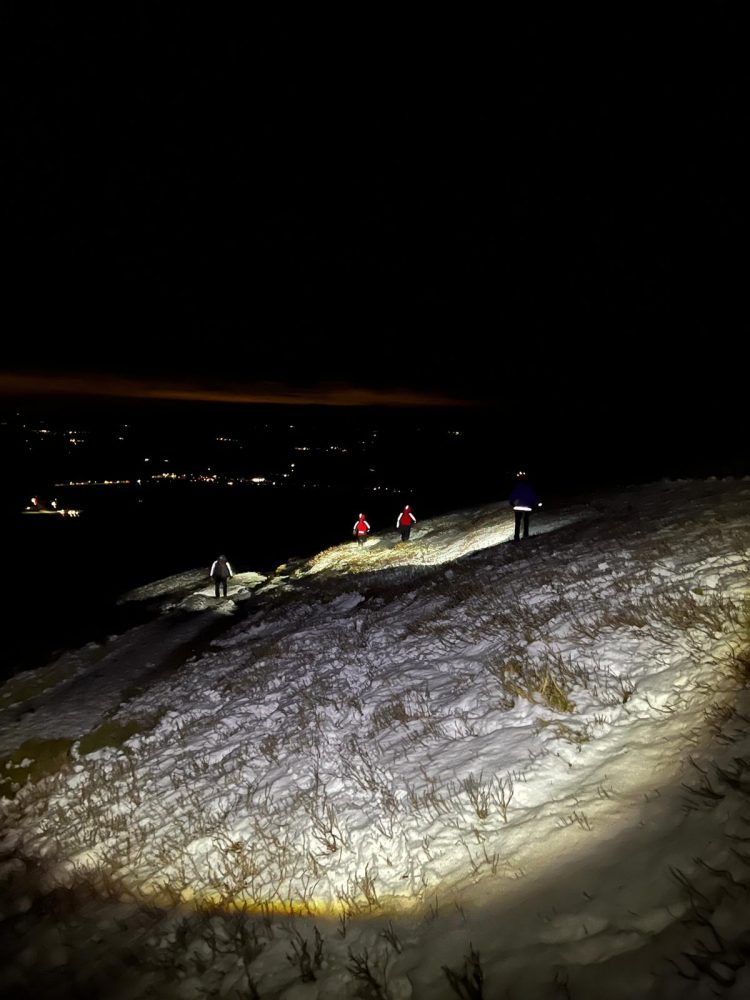 Back to News